Dr. Ankit Rathi – Pulmonologist, Chest Physician
Consultant- Dept. of Pulmonology and Chest Medicine
Qualification

M.D. (Pulmonary Medicine), M.B.B.S.,
IDCCM(Indian Diploma in Critical Care Medicine),
EDRM(European Diploma in Respiratory Medicine, Italy )
FCCS(USA)- Critic
ABOUT ANKIT RATHI
Dr. Ankit Rathi is the only chest physician /pulmonologist /lung specialist in Rajasthan to get EDRM(European diploma in respiratory medicine) degree. He has many years of experience in respiratory and critical care medicine. After completing his MD, he completed IDCCM( Indian diploma in critical care medicine) and worked as a consultant in AIIMS. Now he is consultant pulmonologist, bronchoscopist, thoracoscopist, intensivist, sleep medicine and infectious disease specialist at Rathi Hospital Jodhpur
FOOTPRINTS RAJASTHAN
Chest doctor, pulmonologist and lung doctor Dr. Ankit Rathi Near By Sitting areas in Western Rajasthan are Balotra, Falodi, Badmer, Pali, Sumerpur, Nagor, Bilara Etc.
APPOINTMENT
Intensivist at Global Hospital & Research Center, Andheri west, Mumbai.

Consultant in kailash Hospital, Noida

Consultant in Dept of Pulmonary and Critical Care Medicine in Jaypee Hospital, Noida

Senior Resident in Dept of Pulmonary Medicine in All India Institute of Medical Science, Jodhpur.
EXPERTISE
Complex care for most complex pulmonary cases

Tuberculosis

Thoracoscopy

Pulmonaria

Sleep Studies

Bronchoscopy Service including BAL, Transbronchial lung biopsies and transbronchial needle aspiration.

Allergy and Immunotherapy
LANGUAGES
PUBLICATIONS
"Echocardiographic evaluation of Pulmonary Arterial Hypertension in Patients with Chronic Obstructive Pulmonary Disease" A M.D. Thesis

"Early diagnosis of pulmonary arterial Hypertension using Transthoracic Doppler echocardiography in patients with chronic obstructive pulmonary disease" in Lung India 2013

"Lymphangioleiomyomatosis: A case report J NTR Univ Health Science 2014

"A rare case of Primary mediastinal yolk sac tumor" Arch Med Health Science 2014
AWARDS AND ACCOMPLISHMENTS
Member of Medical Council of India

Member of the European Respiratory Society (ERS)

Member of Asian Pacific Society of Respirology (APSR)

Member of American College of Chest Physicians (ACCP)

Member of European Society of Intensive Care Medicine (ESICM)

Life Member of Indian Chest Society (ICS)

Life Member of Indian Association of Bronchology

Life Member of Indian Sleep Disorders Association

Life Member of Critical Care Education Foundation

Life Member of Indian Society of Critical Care Medicine (ISSCM)
Connect us here!
Contacts
Rathi Hospital E-109, Shastri Nagar 342003 Jodhpur City, Rajasthan, India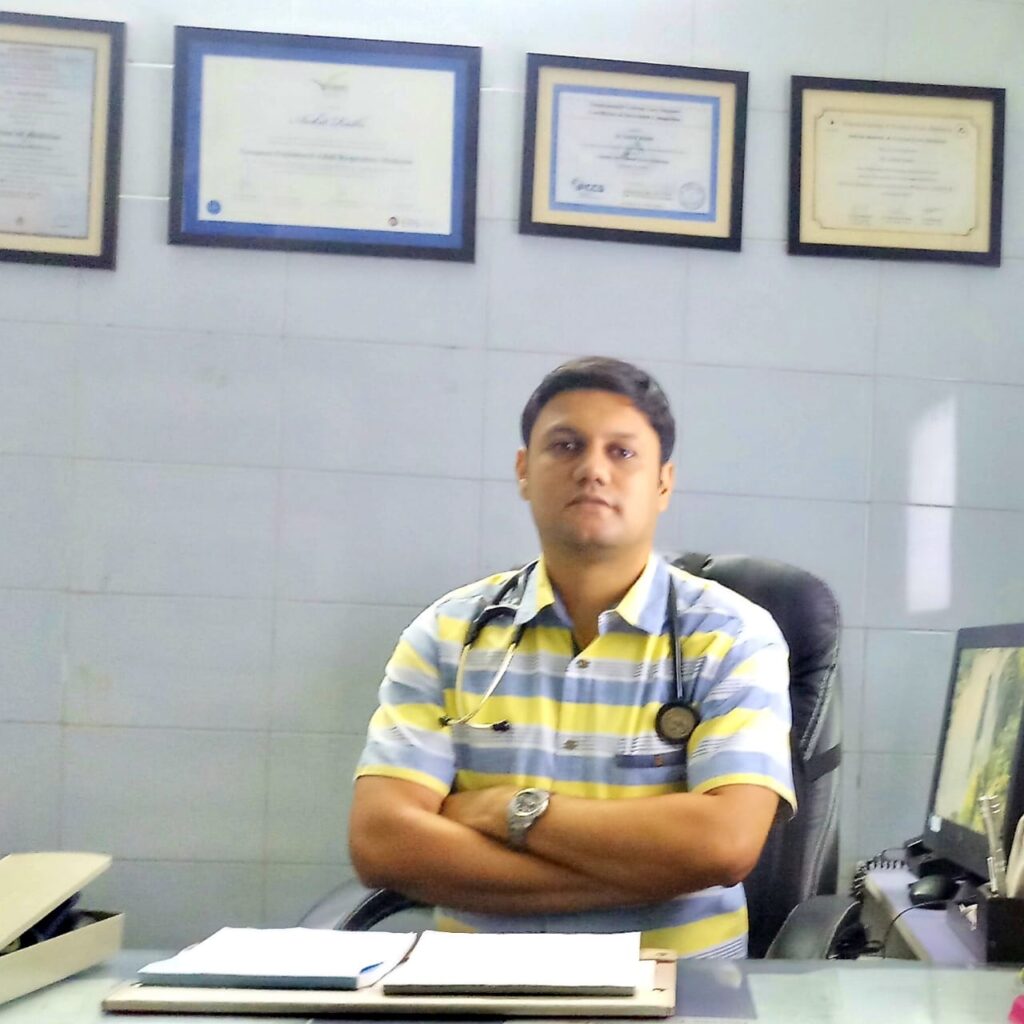 Doctor Schedule
TIMING
05:00 PM TO 08:00 PM

09:00 AM TO 02:00 PM

Chest Physician , Chest Specialist, Chest Specialist Doctor, Pulmonologist, Lungs Specialist